Ardel Steel is a Saskatchewan based business founded in 1980. We employ approx 100 dedicated and trained professionals with one goal in mind:
To be a company of excellence.
We've taken this commitment and used it to grow into a strong organization that contractors know they can rely on.
Ardel Steel is a full-service fabrication shop and steel distributor. With branches in both Regina and Saskatoon, a fleet of delivery trucks and the only indoor fabrication facilities in the province filled with state-of-the-art equipment its easy to see why We are Saskatchewan's
Rebar Leader.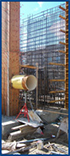 Ardel's New Partner
We are excited to announce a new partnership with Salit Steel. Salit is a family owned, 5th generation...

Welded Pile Cages
We now produce and stock engineer approved welded pile cages for all types...